Frederick B. Glaser Award presented to Dr. Morse
April 15, 2021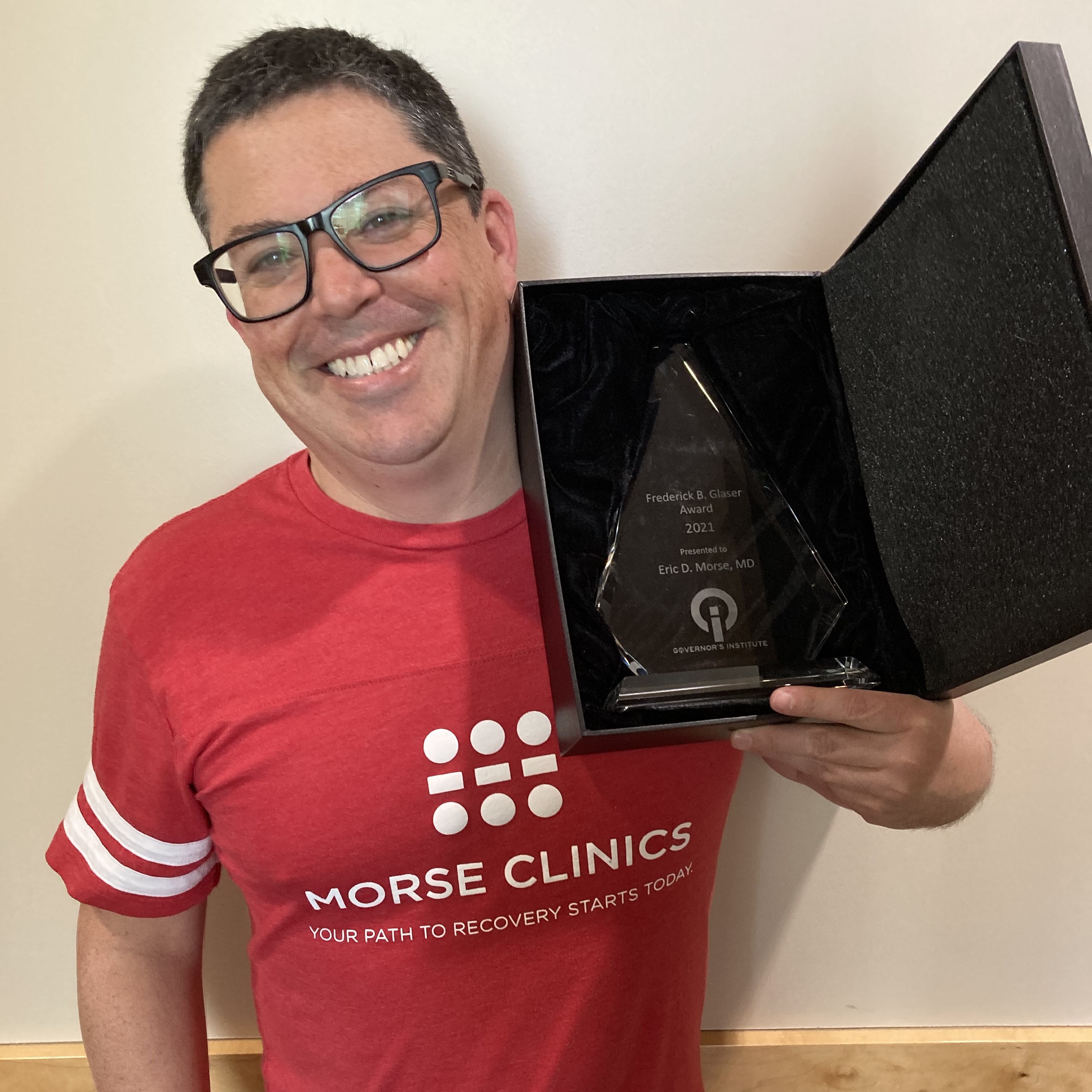 Dr. Morse was presented with the Dr. Frederick B. Glaser award at the Addiction Medicine Conference on April 9, 2021 at the North Carolina Addiciton Medicine Conference hosted by the The Governor's Institute, a 501(c)(3) non-profit corporation was founded in 1990 to improve how the health care professions, particularly physicians, prevent, identify, and treat substance use disorders. The Glaser award is given biennially on odd numbered years and recognizes the ongoing commitment and persistence of effort over a career in the substance use disorder field. 
This award was developed to honor one of the pioneers of Addiction Medicine in North Carolina. Dr. Frederick Glaser demonstrated a commitment to this field of medicine from early in his career. He received his M.D. from Harvard University in 1959 and then served his residency at the U.S. Public Health Service Narcotics Hospital in Lexington, Kentucky. Glaser went on to have a distinguished career in the field of substance abuse, including the study of opiates and alcohol. He has held a variety of positions in the United States and Canada, serving as the director of the University of Michigan Substance Abuse Research Center from 1989 to 1994 before becoming Professor of Psychiatry and Director of the Division on Substance Abuse at the East Carolina University School of Medicine. The Glaser award honors leaders in Addiction Medicine in North Carolina.
In his acceptance speech, like any great athlete, first Dr. Morse thanked God and his mother.  He then thanked his mentors at the University of Maryland Addiction Psychiatry Fellowship from 2002-2003, especially Dr. David McDuff.  Dr. Morse then thanked everyone at the North Carolina State Opioid Treatment Authority, from the first time he met Burt Bennett and Bill Bronson at a CSAT conference in Rockville, MD in 2004 when he working down the street and was encourage to move back to NC and open OTPs there, from Spencer Clark and Marie Britt, to Smith Worth, Amy Morris, Anna Stanley and Pamela Morrison.  He thanked Sara McEwen and everybody at the Governors' Institute.  Dr. Morse recognized and thanked everybody in his Morse Clinics family with seven clinics spread across central North Carolina. He also especially thanked Dr. Josh Dittmer, and his Carolina Performance.
Next, Dr. Morse encouraged all the attendees of the Spring Conference to continue to do the great work they are doing in the field of addiction.  Clinician burnout is the main reason Dr. Morse looks around and now realizes that he is one of the few clinicians remaining from the first conference. 
A special message to everyone reading this:
Never give up before the miracle happens, whether you are a patient or a clinician.  Ask for help or take some time off, if you need to, but never give up completely.  We need you!